About Studio Durian Editing Service
Through this service, you can have your work edited by professional animator Kiyotaka Oshiyama, receive expert advice on how to convey your ideas and gain know-how used in the animation industry.
Example of Edited Material (still image)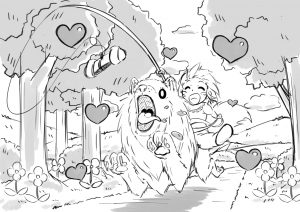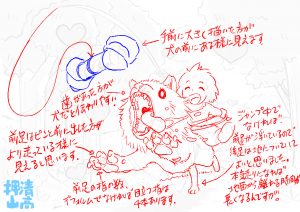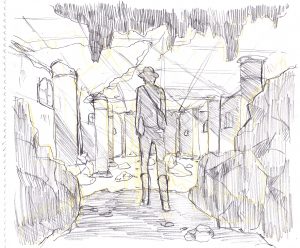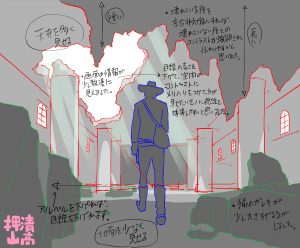 Who is this service for?
Anyone seeking help in expressing their ideas through their work
Anyone wishing to gain animation know-how from working professionals
Anyone looking to become a professional manga artist, illustrator, game artist, 3D artist or other kind of artist
Anyone interested in learning the basics as well as gaining industry-level know-how
Anyone who feels they have reached the limit of studying on their own
Anyone wishing to increase the power and impact of their drawing
Anyone wishing to brush up their skills and fulfill their potential
Anyone interested in non-verbal communication
Message from Kiyotaka Oshiyama
The advice I offer will vary depending on the theme of your work. I try to approach each piece as neutrally as possible, but since I have preferences of my own, my advice should be considered as subjective. Please take my advice as just one of many possibilities and enjoy! Otherwise you may lose the fun of drawing.
I will not tell you what the theme of your drawings should be. It is for you to choose your theme and decide what you want to transmit and express before you start drawing. That way, you will know when you fall short of your ideals and you will be able to learn more.
Although animation editing is usually done in the context of a series of images (like flip book images), I will be editing your pieces as keyframes.
About the Editor
押山清高/Kiyotaka Oshiyama
Animator/Animation Supervisor/Director of Durian Inc.
Born 1982, Fukushima Prefecture
Kiyotaka Oshiyama has been drawing since he was child. Armed only with self-taught knowledge, he started his career as an animator in the production company XEBEC Inc. He later went freelance, and polished his skills through numerous productions such as "Coil – A Circle of Children", "EVANGELION:2.0 YOU CAN (NOT) ADVANCE", "Fullmetal Alchemist: The Sacred Star of Milos" and "SPACE DANDY". Through his work for STUDIO GHIBLI he learnt the animation methods of Hayao Miyazaki through productions such as "The Wind Rises", "The Borrower Arrietty" and The Ghibli Museum's short film "Mr. Dough and the Egg Princess". His directorial debut was with TV series "Flip Flappers". More recently he has worked on "DEVILMAN crybaby", "FLCL Alternative" and "FLCL Progressive". He is currently working on his own original creation whilst participating in several other productions.
Applying for the Free Editing Service(Irregularly)
*You can only upload one file per person during any given service period. Please do not upload more than one file.
Editing Fee : 1 job = 10,800 Japanese yen (tax inclusive)

Please note:  payment instructions will be provided after your application has been confirmed. You cannot cancel your order after payment has been made.
Privacy Policy & User Agreement
Studio Durian Editing Service  https://studio-durian.jp/news/studio-durian-editing-service
Charge correction   https://studio-durian.jp/news/charge-correction
Free Editing Service  https://studio-durian.jp/news/free-editing-service
Atelier Durian  https://studio-durian.jp/news/atelier-durian-en
Privacy Policy & User Agreement   https://studio-durian.jp/news/privacy-policy-user-agreement